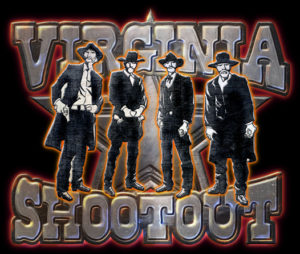 The fine folks at the IPMS/Roanoke Chapter [http://www.rvipms.com/] have just provided information regarding the 2017 Virginia Shoot-Out Model Convention, Show & Swap Meet coming Saturday, August 12th at the Salem Convention Center (Main Arena).  This is a well-attended and highly organized one day event & one of the three 'biggies' available to Hampton Roads modelers.  The show's flyer and contest categories are found as PDF files from the links below.
General information from RVIPMS:
The Roanoke Valley Chapter of International Plastic Modeler's Society (RVIPMS) is pleased to announce the return of the Virginia Shoot-Out Model Convention to the Salem Civic Center (Main arena) on Saturday, August 12, 2017. We look forward to welcoming our friends from Regions 2, 3 and 12 and the general public to one of the largest model shows, contests and vendor sales on the East Coast. The "Virginia Shoot-Out", our yearly one-day show, is one of the most popular of the show circuit. 2015's model contest drew some of the finest models from over 17 different IPMS chapters as well as model car clubs, sci-fi groups, model figure societies, and model-building talent from the surrounding Roanoke Valley area. We feel that this year will shatter existing records for models, vendors and fun!!!!
PLEASE NOTE VENUE CHANGE—WE ARE IN THE SALEM CIVIC CENTER IN THE MAIN ARENA
In order to put on the contest and show you have come to expect, we need your generous help!!!
• Trophy sponsorships are available for $20.00 per category.  This includes a lst, 2nd and 3rd place award plaques for each category.
• "Best Of" trophy sponsorships are available for $40.00
• Each category will have the sponsor announced during the awards ceremony and will be listed on the table cards
Vendor tables are available on a "first-come, first served" basis for only $30.00 per table until 07/15/17. Table sales from 07/15/17 to day of show are $40.00 each.
Please contact our vendor coordinator and Convention Chairman, Greg Clower, at 540-650-1552 or e-mail to gclower@aol.com for more information and availability. Check with Greg on multiple table deals and availability for club displays and product demos.
You can also help by making a raffle donation. We appreciate all raffle donations and encourage the donation of new manufacturers' products as well as any items that you have to offer. We will label all donations with the donor's info unless otherwise requested. Please contact Tim Ward, Raffle Coordinator, at 540-977-6205 or 540-353-2177 (cell) or e-mail twardf86@aol.com to arrange pick-up or shipment of raffle items. All donations are gratefully appreciated!!!
Mailing address:
IPMS Roanoke Valley
PO Box 20841
Roanoke, VA 24018
Links: