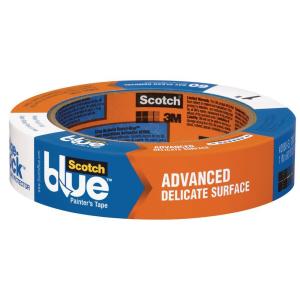 Not too impressed with the product.  On a fully dry acrylic surface used the tape for some additional lines.  I used the "delicate surface" variation because I was afraid of lifting off the acrylic paint.
Results:
Paint bleed.
The tape left a gummy residue that I had to remove by rubbing the surface.  The surface came out fine but again could have done without the left over residue.
Lesson:
Just use my normal tack painters blue and prior to putting it on the surface of the model, tape it against your shirt or pants a couple of times to lessen the tack.
ADDENDUM:
On  July 5, 2012 at 2:10 pm,  Ken Patrick said:  I mentioned this to a guy I work with who builds surfboards, and he said that the best tape for his purposes was bought at a local Sherwin Williams Store. Professional auto-body tape. 
On July 7, 2012 at 10:42 am, Ken Patrick said: Just bought and used "Scotch Blue Painters Tape with Edge Lock" (Model #2093EL). What a great product, paint lines as sharp as a tack, no existing paint lifting. This is my GOTO tape from now on.