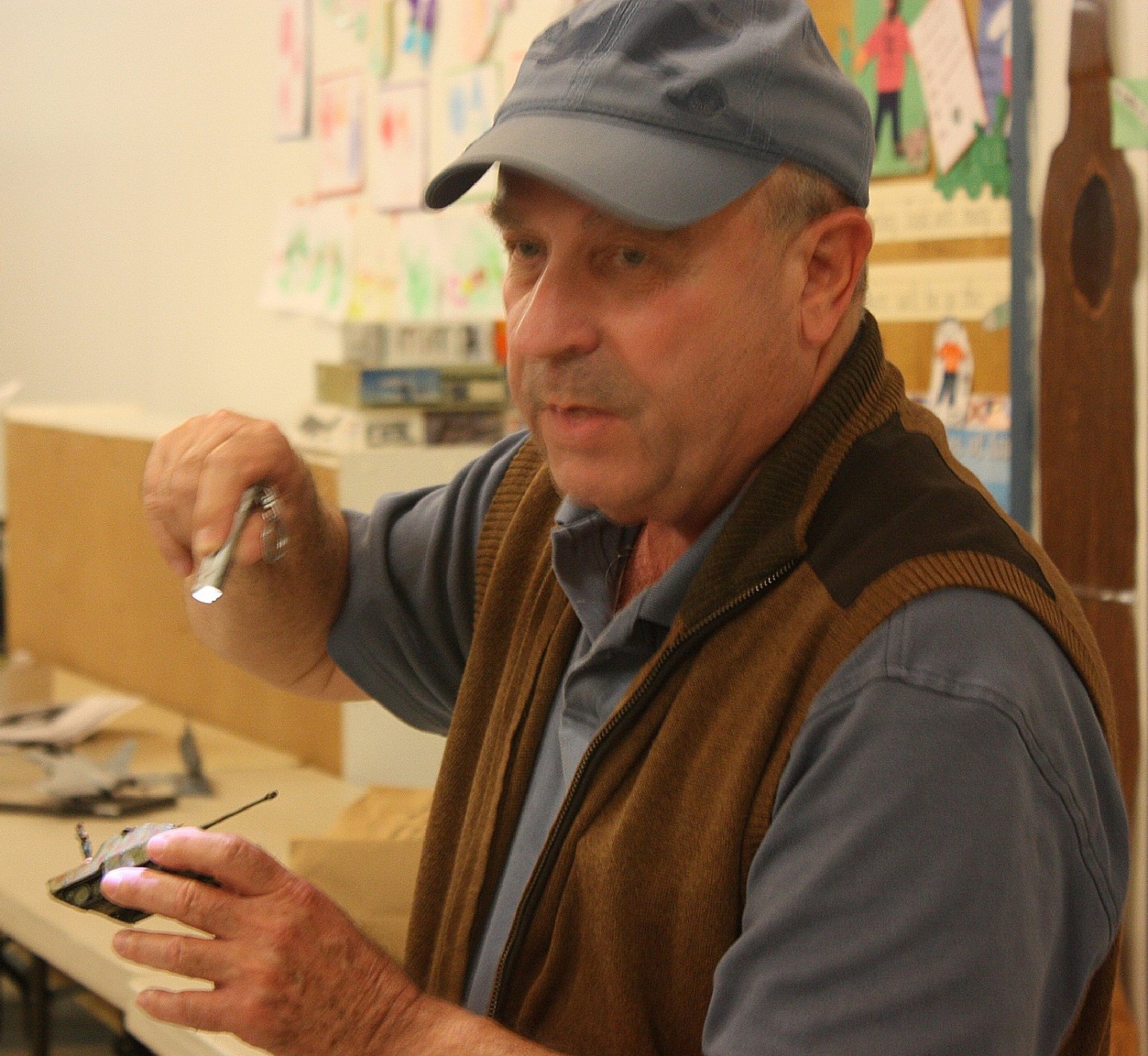 As most members already know, our friend and clubmate Mike Eberhardt passed away November 6th at his home at the age of 67.   This is a shock to all who knew Mike and our club will be poorer for his absence.  As our 1:72 scale armor 'guru', Mike has been a steadfast member for many, many years and a fixture at most club events.  As is common within our club community, personal contact outside of club activities was limited and as Mike was someone who didn't speak of himself rather preferring discourse on topics of shared interest, we did not generally know much about his personal life.  At his packed memorial service yesterday (Veterans Day, appropriately), his son Bryan shared thoughts of his dad's character with everyone and it was apparent that "our" Mike had a quiet, unassuming personality and was someone who believed and practiced service to his fellow man above himself.  He loved his wife and his family very much, doting on his grandchildren.  Besides his modeling art, Mike also mastered painting, gardening and automotive mechanics.  As Bryan said, Mike was "a jack of all trades and a master of more."  Retired from the Coast Guard as a LCDR, he continued to be active, remaining a leader and loyal to his fellow Coast Guard Auxiliary unit members, who honored him yesterday with an achievement award and color guard salute.
I hope you will take a moment to consider Mike's life and recall the moments we were all fortunate to share with him.
Obituary
Lieutenant Commander (Retired) Michael Thomas Eberhardt, 67, of Virginia Beach, VA, passed away at his home on November 6th, 2012.  He was the son of the late Richard M. Eberhardt and Sadie Eberhardt. He was born in Boston Massachusetts on February 16th, 1945 and graduated from Wheaton High School and Seattle City College with a Business Administration Degree.  He was married to Patti Ann Eberhardt for 43 years. Mike enlisted in the United States Coast Guard at the age of 17 and received his commission through Officer Candidate School on February 11th 1970.  He retired from the USCG on July 31st 1986.  His service included tours in Seattle, San Francisco, Wake Island, Honolulu, Guantanamo Bay, Portsmouth, and the Pentagon.  After his retirement Mike worked various jobs in the community and for the city and was actively involved in the USCG Auxiliary and was the Division Commander Division 5 Southern Region.  He also enjoyed his free time as the Vice President for the Hampton Roads Scale Modeler club.  He is survived by his wife Patti, son Bryan Eberhardt and his wife Sung, Patrick Eberhardt and two Grandchildren, Reyna and Justin.  He also leaves two brothers, Jim and David, and a sister Joyce Krein.  The memorial service will be held at 3:00 PM on Monday, November 12th at Foundry United Methodist Church, 2801 Virginia Beach Blvd, Virginia Beach, VA.  In lieu of flowers, memorial donations can be made to the Coast Guard Mutual Assistance fund at
www.cgmahq.org
.