"Black Ponies and More" 1:32 scale USN & USMC Broncos in the Vietnam War ($22)
It was a bit surreal for me to discover a previously unknown decal maker while on Britmodeller.com forums, then visit the AoA site to see they are practically in my 'back yard'. I sent an inquiry asking about ordering and proprietor Steve Belanger then struck up a conversation with me.  He then sent along some samples of his sheets even before I had placed my order (for his A-6A Intruder sheets in 1:48 scale.) Totally unexpected, but nonetheless a welcome chance to share the news of such – as I soon found – very interesting and well produced decals with our local modeling community.  Steve seems to embody the enthusiastic, 'one-man-band' operation that is becoming so common in the AM decal market. Perhaps it is our generally heightened level of interconnectedness, but many of the decal makers seem to be genuinely interested in opening dialogues with their customers. At one time, we'd take a visit to the local hobby shop to peruse the latest releases but now, much of the effort is collaborative to the benefit of all.  At least, it seems to be the case!
As for AoA's products, I must say I am specifically impressed on two measures: 1) research and 2) production.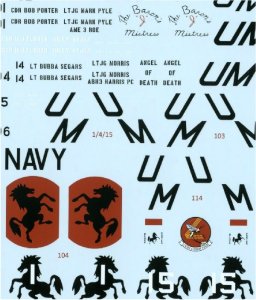 Looking at the "Black Ponies" two-sheet set (one just for the stencils), it has mostly USN VAL-4 birds in green & gray schemes, or overall grey with the colorful VAL-4 'rearing mustang' black horse on a red field unit markings. Also included are a couple from VS-41 'Shamrocks', which acted as the type conversion unit. One VS-41 option is a striking overall black scheme. Plus, one VMO-6 'Cherry Six' USMC bird in green, grey & white scheme. Besides stencils & national markings for one a/c, the individual aircraft numbers and crew names plus any unique markings are all present along with the variations of the propeller, grab-hold & E-seat warnings specific to each aircraft depicted. Plus some helmet markings & sharkmouths for centerline tanks/ guns. Well-researched & with high-quality printing (by Cartograph) of some unique options, the result is an excellent product. Only (admittedly) minor critique being the lack of more USMC choices (somewhat better on the 1:72 sheet with one more of white service markings & 'Puddy Tat' artwork) & some difficulty decoding the tiny crew names on the printed profile artwork. I did determine that the crew names are grouped on the decal sheet itself with the associated a/c numbers, so this is easily dealt with once you realize this feature.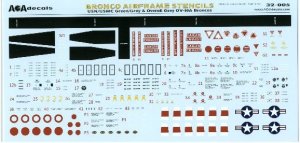 The instructions do include two charts: one providing the variations in the prop, E-seat & hand-hold stencils for each aircraft and second an external loads matrix representative of VAL-4 ops. Mention is made of a unique, non-standard centerline 20mm cannon gun pod however no picture or drawing of this is provided. Steve did email me a picture of the pod when I inquired but more research is required if you want to mount one on your model. Fascinating stuff!
A few of the options show the same BuNo at different points in its career, usually differentiated by a color scheme change (11 aircraft in 18 color schemes.)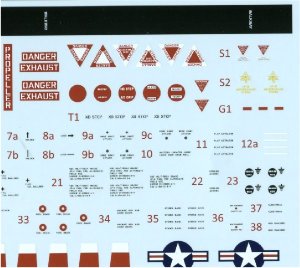 Besides the main sheets, copies of the wing-walk & stencil markings are also offered separately in both 1:32 & 1:72 scales.
The other AoA sheets focus on USMC A-6 Intruders in Vietnam. The A-6 sheets include full a/c markings plus either one or two (on the 1:72 sheet) sets of stencils & star & bar markings (stencil data sheets are also available separately as with the Bronco sets.) Paper instructions are not included but rather a mini-CD with the some 80 pages of information & graphics again to a very high quality. Certainly a far cry from the one 8.5″ x 11″ single sided instruction of yore!
One other note on the Intruder instruction sheet: It is more like a markings research thesis than decal instructions.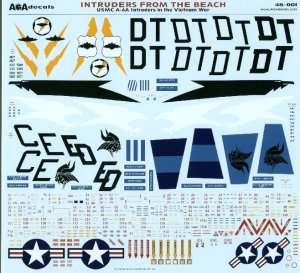 Included is information on 'converting' the HobbyBoss A-6 kit to the correct configuration for the markings options provided, followed by very specific data on nearly every airframe flown by the three squadrons covered (VMA(AW)-225/242/533) including the various minor & not so minor differences.
Other sheets I examined included:
48-001 / 72-001 – Intruders from the Beach (USMC A-6A Intruders in the Vietnam War)
48-002 / 72-002 – Intruder Airframe Stencils (Hi-Vis) for A-6A, A-6E, A-6E TRAM & KA-6D
72-003 – Black Ponies & More (USN/USMC OV-10A Broncos in the Vietnam War Era)
As is apparent, the subject list is as of yet restricted to Intruders & Broncos, but Steve has posted his intentions on the website for USN/USMC A-4 Skyhawks in 1:48 & some weapons stencil sets in 1:32. I expect these will be similarly well produced.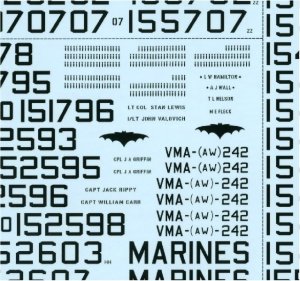 Ordering is directly from the website where all sheets are fully described with images that show the product clearly, so there is no doubt what you're getting.
AoA Decals (Wilmington, North Carolina)