The club's annual build Challenge theme for 2017 was to create a 'mash-up' using the parts from three different kits (and for extra spice, from different genres such as plane-ship-tank…)  The goal was to use only the parts provided by the victim.., ah, donor kits, without resort to the general 'fund' aka the parts bin.  As this was the only stated requirement, our intrepid 'mad scientists' delved into the fun-ky side of their creative urges and came up with a range of stalwart competitors for the year's challenge.  As with all works of art,  beauty is in the eye of the beholder… so, for your entertainment!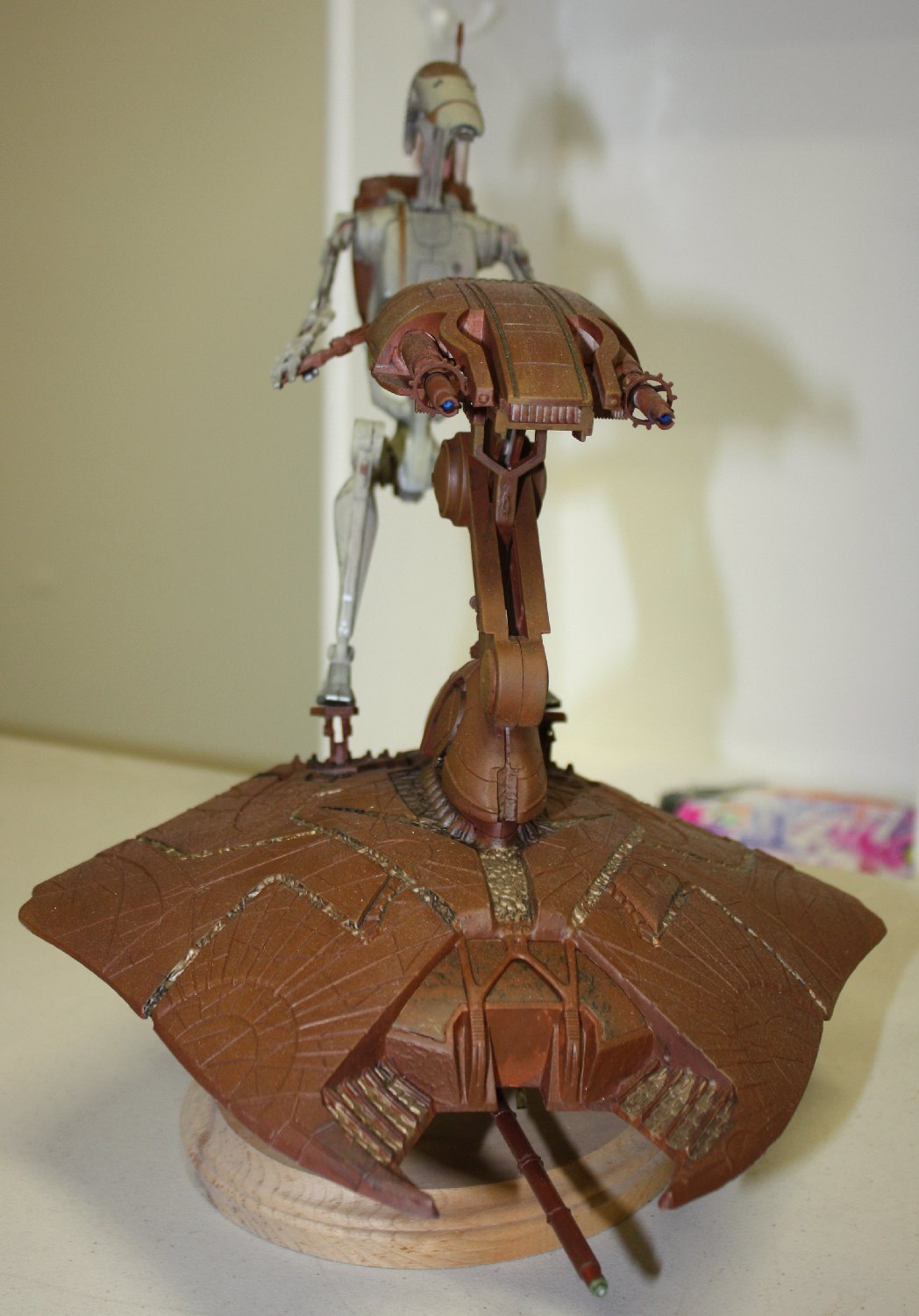 Ed Rose combined an AMT 1/12 scale STAP and 'Droid with a 1/35 T-80 tank and Lindberg's Alien Fighter from the Independence Day movie to create his up-gunned 'Super STAP'.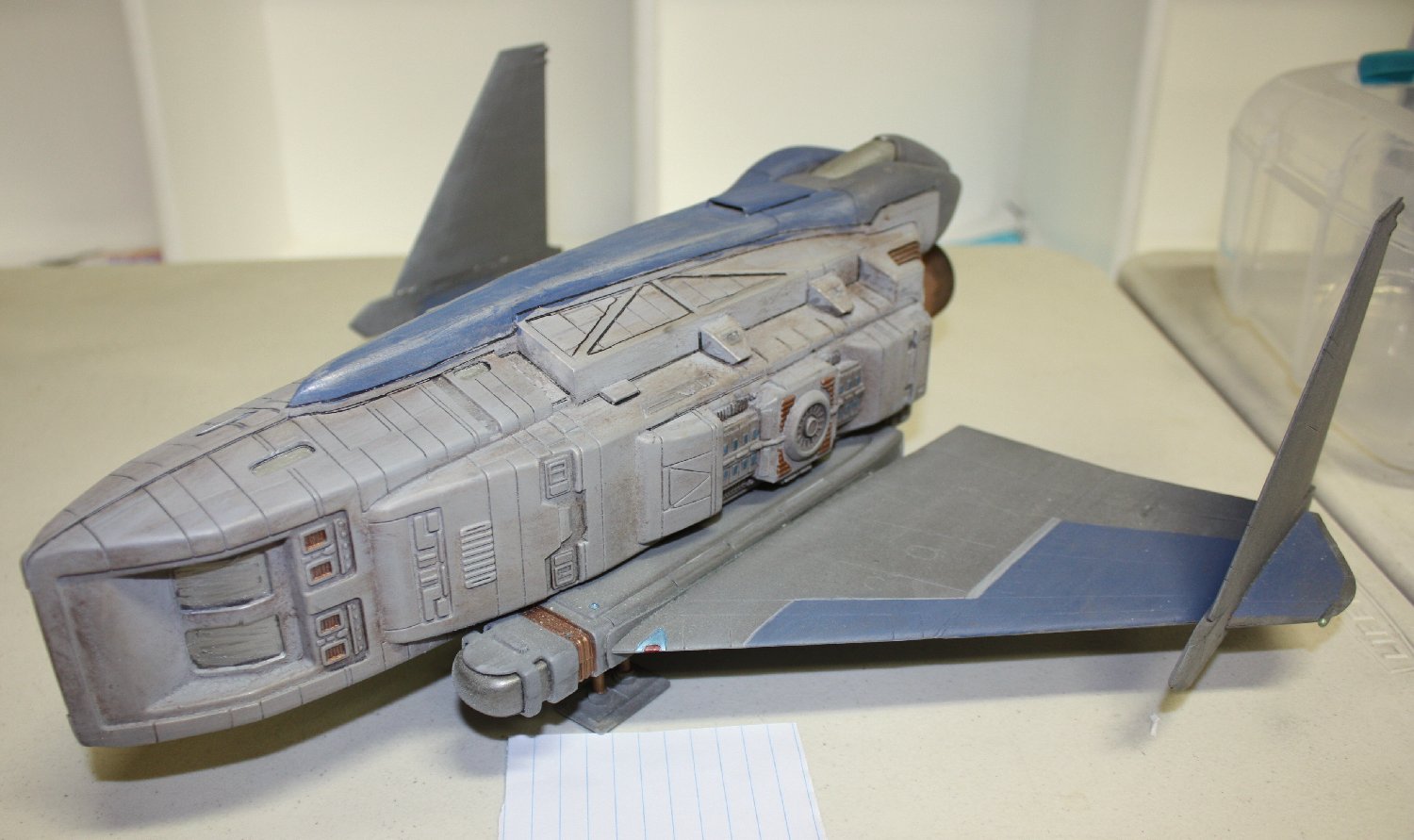 Ed was so enthused, he also developed a second project which involved a mash-up of two AMT 1/72 scale Deep Space Nine Runabouts, a 1/32 scale Eagle and a 1/25 scale Dragster. Extensive use of metallic Sharpies provides nice metallic highlights.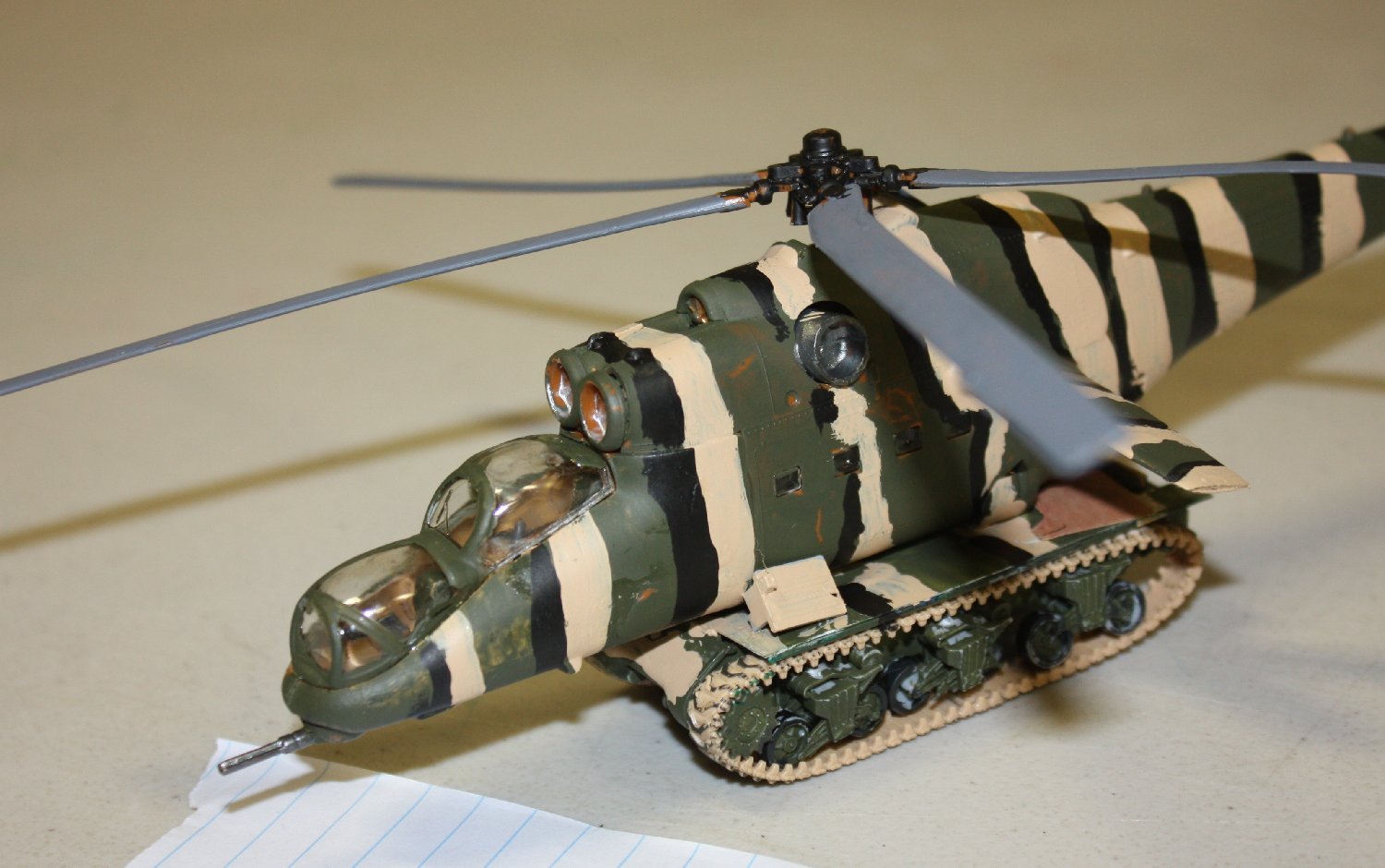 Mike Hilliker used a 1/72 Hasegawa Mi24 Hind D kit mounted on a 1/72 Sherman chassis with some Hummer parts thrown in to create a "Hind Crawler".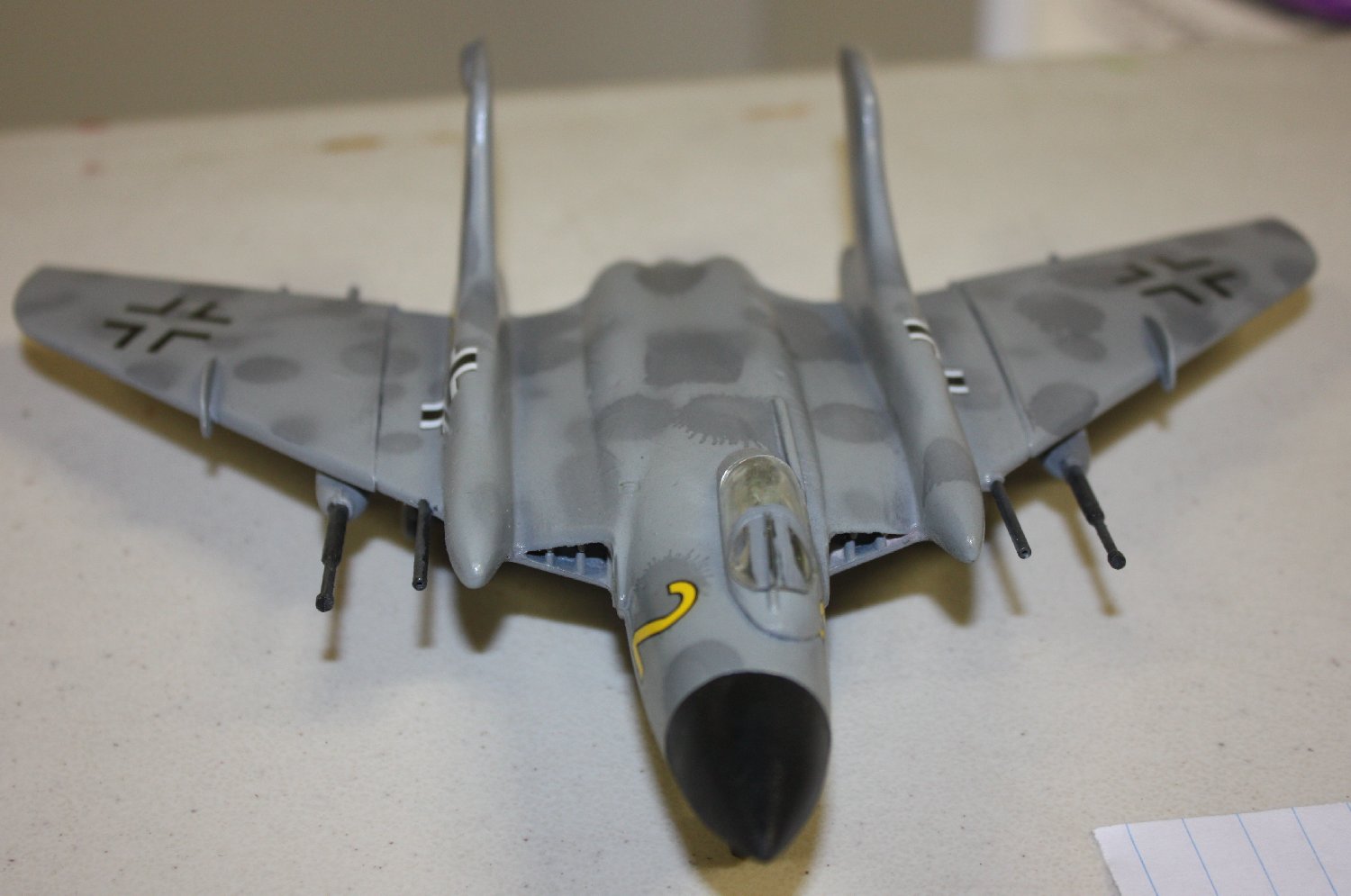 Bruce Hayter combined an Airfix 1/72 scale Sea Vixen with F-86 drop tanks and other various parts to create an up-gunned Super Vixen in German markings, reminescent of so many of the WWII 'paper projects' that caused so much distraction to the Nazi regime (thank goodness!)
Gary Telecsan took inspiration from the Japanese anime series of the Spaceship Yamamoto by combining a Lindberg 'Musashi' battleship model with a 1/72 scale Heller "Somua" tank and parts from an unidentified Battlestar Galactica related kit (using elements of the 'rag-tag fleet') to create his entry.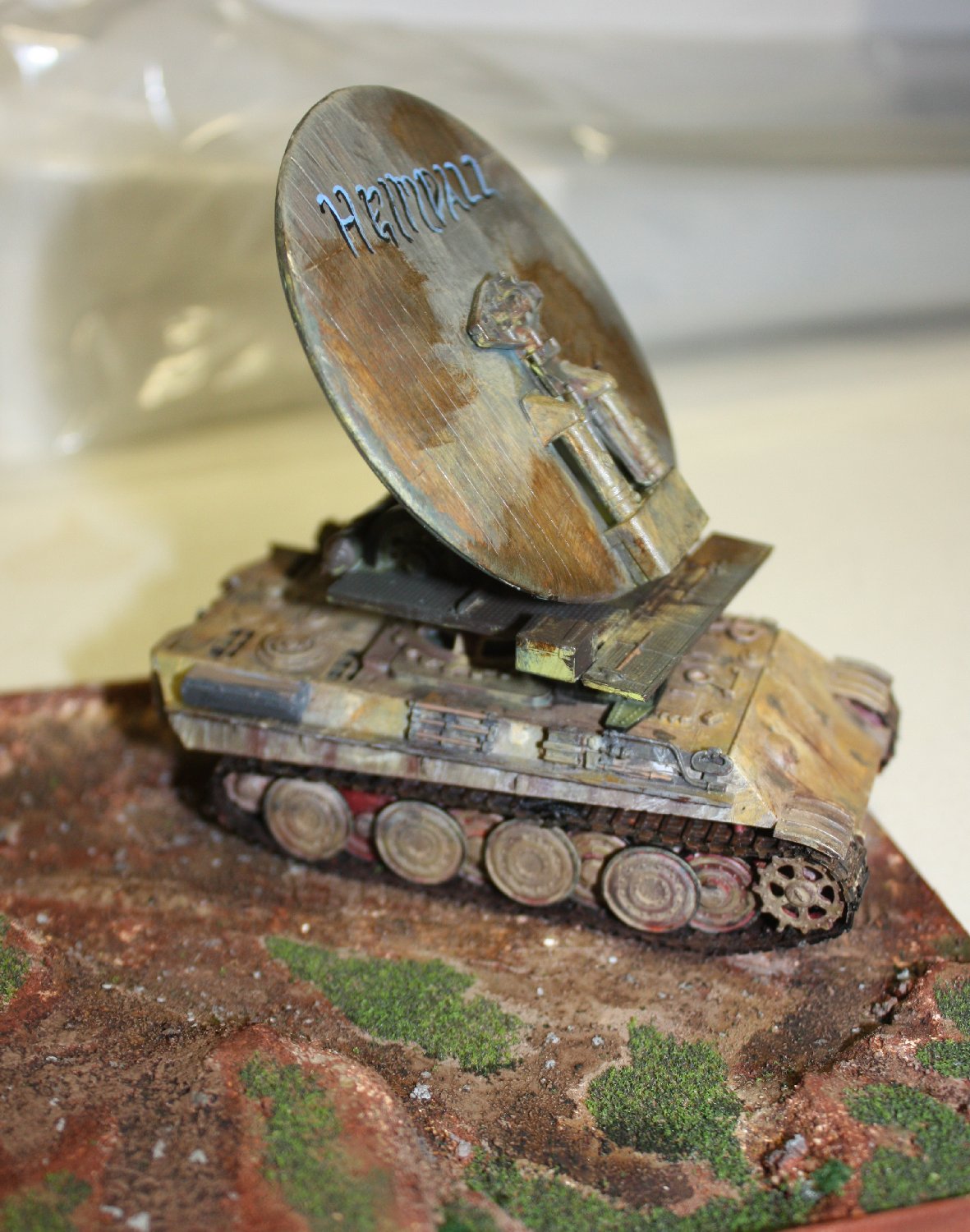 Joe Montes tapped into his love of armor modeling to create a 'what-if' mash-up of a 1/72 Panther tank, a 1/72 Sak 'round wing' fighter and a 1/35 Stug IV tank that represents a tank mounted mobile radar system. Shades of Gepard and Sgt. York AAA tanks…
Lastly, the author entered a "1/48 scale" composition that used the parts from an Minicraft 1/48 P-38 (well, F-5A) Lightning kit, an Airfix 1/72 Ka25 'Hormone' ASW helo and a Fujimi 1/76 scale Stug IV to create an SF3D 'Falke' inspired 'armored scout hovertank'. Details of the build can be seen HERE.